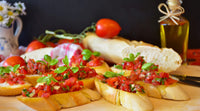 With the summer weather up on us there will be plenty of fresh produce at roadside stands or maybe from your own garden. Here is a classic recipe for beautiful ripe tomatoes.
Preparation:
Cut tomatoes into cubes. Place in bowl and add all other ingredients.
Cut baguette diagonally, brush on olive oil and broil in oven. Be sure to turn over slice midway. You can also grill  bread slices on BBQ.
Spoon tomato mixture on bread. 
Serve.
Chef's Tip:
Bruschetta is the Italian term for grilled bread.  The topping can vary so be creative. The tomato blend in this recipe is also ideal to add on top of grilled chicken or steak.