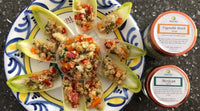 This salad makes a great appetizer and serving the salad in endive boats makes for a captivating presentation.
Ingredients:
1 cup uncooked quinoa, rinsed in a fine-mesh colander

2 cups water

1 can (15 ounces) chickpeas, rinsed and drained, or 1 ½ cups cooked chickpeas

1 medium cucumber, seeded and chopped

1 medium red bell pepper, chopped

¾ cup chopped red onion (from 1 small red onion)

1 teaspoon of Chalice Spice Mexican Seasoning

1/4 cup of fresh chopped flat parsley 

¼ cup olive oil

¼ cup lemon juice (from 2 to 3 lemons)

1 tablespoon red wine vinegar

2 cloves garlic, pressed or minced

Chalice Spice Himalayan Pink Salt and Peppercorn, , to taste
Preparation:
Cook the quinoa by combining the rinsed quinoa, the water and Chalice Spice Vegetable Broth Powder in a medium saucepan.
Bring the mixture to a boil over medium-high heat, then decrease the heat to maintain a gentle simmer. Cook until the quinoa has absorbed all of the water, about 15 minutes, reducing heat as time goes on to maintain a gentle simmer. Remove from heat, cover, and let the quinoa rest for 5 minutes, to give it time to fluff up.
In a large serving bowl, combine the chickpeas, cucumber, bell pepper, onion and parsley. Set aside.
In a small bowl, combine the olive oil, lemon juice, vinegar, garlic and salt. Whisk until blended, then set aside.
Once the quinoa is mostly cool, add it to the serving bowl, and drizzle the dressing on top. Toss until the mixture is thoroughly combined. Season with black pepper, to taste, and add an extra pinch of salt if necessary. For best flavour, let the salad rest for 5 to 10 minutes before serving.
Serve chilled or at room temperature.
Chef's Tip:
Since salad keeps well in the refrigerator, covered, for about 4 days, it is a great recipe to make ahead when you are planning for a large gathering.