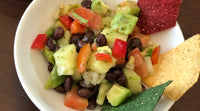 This homemade summer salsa with fresh garden vegetables and black beans makes a great appetizer or add to a tortilla or pita as a wrap for lunch! It's colourful and fresh tasting so invite some friends over and enjoy!
Ingredients:
1 (540ml) can black beans , rinsed and drained in a mesh colander

4 Roma (Plum) tomatoes, seeded and chopped

1 medium red bell pepper, diced

½ red onion (from 1 small red onion), diced

2 avocados, diced

1 seedless cucumber diced

1 teaspoon of Chalice Spice Mexican Seasoning

2 TBSP fresh chopped cilantro (if available)

¼ cup fresh lime juice (from 2 limes)

2 tablespoon rice vinegar

1 tablespoon olive oil
Preparation:
Combine all the ingredients and season.
Keep refrigerated until ready to serve.
Chef's Tip:
The citric acid in the lime juice dramatically slows the browning process for the avocados. Also putting an avocado pit in the salsa keeps it from turning brown. Make sure to store in an airtight container.