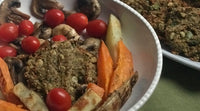 Recipe submitted by: The Clever Cook
Looking for ways in which to augment your protein intake.  This recipe fits the bill.
Ingredients:
Yield 36 patties
½ split green dry beans
½ cup brown dry lentils
¼ cup red dry lentils
⅓ cup yellow split peas
2 cups canned drained  Black beans
2 cups canned drained  Chickpeas
5 garlic cloves
2 small red onions
1 cup dry Quinoa
2 cups chopped baby spinach
1 cup shredded carrot
2 sweet potato
1 fresh bunch cilantro
1 tbsp Chalice Spice Chef Seasoning
Optional: Mushroom sauce for topping
8 Fresh White mushroom caps
1 tbsp Olive oil
3 Garlic cloves
1 tsp Himalayan salt
1 tsp Pepper
Preparation:
Rinse the dried beans, lentils and split peas with water in a stainer
Then add ingredients In a pot with 4 cups of water ensure beans are completely submerged.
Cook for 30-45 minutes until soft texture
Stir and let cool.
Drain and rinse black beans and chickpeas
Place black beans, chickpeas, fresh cilantro, garlic gloves, chalice spice organic chef seasoning, red onions, Himalayan salt in food processor and run till purée consistency.
Chop fresh baby spinach
Use a mandolin and cut sweet potatoes, and carrots into strips.
In a large bowl mix puréed ingredients, sweet potatoes strips, carrots strips chopped baby spinach, cooked bean mixture and dry quinoa.
Scoop out ½ cup serving size patties and place on parchment paper on baking sheet
Bake at 350 for 30 minutes
 Optional: Mushroom Sauce for Topping
Place olive oil, garlic and sliced mushroom caps and seasonings in a saucepan
Sauté for 4-10 minutes
Serve over patties
Chef's Tip:
Buy your dry legumes like split peas, lentils and beans at the bulk food store to save money. This also allows you to buy just as much as you need so your beans do not become old in your pantry.  Do you know that old beans take longer to cook? Cooking times may vary depending on this variable.
Leave a comment (all fields required)