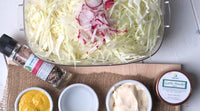 Recipe submitted by: The Clever Cook 
Crunchy, fresh, tasty and easy to prepare. Coleslaw can accompany so many entrées. 
Ingredients:
4 radishes
⅓ green cabbage
⅓ red cabbage (optional)
3 carrots
Dressing
Preparation:
Using a mandolin slice cabbage thin.
Using mandolin shred carrots and radishes into thin strips.
Mix cabbage, radishes and carrots in a large bowl
In a separate bowl prepare dressing. Stir all dressing ingredients together and pour dressing over coleslaw mixture.
Mix salad well
Chill salad overnight or at least 4 hours before serving.
Chef's Tip:
Coleslaw is a salad that gets better overtime. It can sit in the fridge for a few days so it is a great salad to consider when you have a large crowd and need to do some prep work ahead of time.
Leave a comment (all fields required)