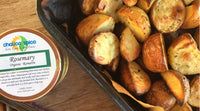 Recipe submitted by: The Clever Cook
Looking for the perfect side.  Potatoes are a classic that satisfies each and every time.
Preparation

:
Slice potatoes in half or quarters
Place cut potatoes in a bowl
Add olive oil, Himalayan salt and chalice spice organic rosemary to potatoes in bowl and toss until potatoes are coated.
Place parchment paper on baking sheet
Place seasoned potatoes onto parchment paper
Bake at 400 for 25 minutes
Chef's Tip:
If you are going to be feeding a large crowd and want to do some of the prep work ahead of time,  consider blanching the potatoes  by placing in boiling water for about 3 to 5 minutes (the newer the potatoes the less time required to blanch them).  Once blanched, season as described and place in the fridge until you are ready to roast in the oven.  You can do this up to 24 hours ahead. This will reduce the roasting time and it is one less thing to do the day of your event. 
Leave a comment (all fields required)