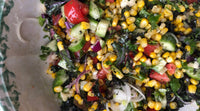 Recipe submitted by: The Clever Cook
A colourful crisp salad adds an appealing dimension to any meal.  
Ingredients:
4 Romano tomatoes diced
1 cooking onion cloves or diced
1 red onion sliced or diced
½ cup chopped cilantro
2 cups organic frozen corn, thawed
4 cucumbers diced
4 organic garlic cloves smashed and  diced
3-5 pieces Fresh kale lettuce, chopped fine
Chef's Tip:
This is one of those salads that gets better with time.  You can keep this salad dressed in the fridge for up to three days and it will taste just as fresh on day three.
About the Chefs:
Sandra and Maja quickly found out that they had the same passion and interest in healthy food. With both having completed their nutrition degrees, this provided them with the fundamental understanding of well-balanced meals along with the science of food.
Their goal is to break down the fear of cooking and improve food literacy by embracing the process of simplifying food on a budget. 
Come along for the journey as they provide the tools necessary to become a happy and clever cook! 
Leave a comment (all fields required)