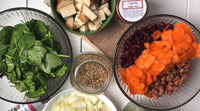 Recipe submitted by: The Clever Cook
The health benefits of legumes is clear.  Rich in protein and other essential minerals, legumes are perfect in soups.  Not only are soups comfort foods but they keep well in the fridge so they are handy for busy people who need a quick weeknight meal.
Ingredients:
2 cups Romano beans prefer low sodium canned bean
1 1/2 cups red kidney beans prefer low sodium canned bean
3 cups diced cooking onions
2 cups baby spinach
2 carrots sliced thin
3 white potatoes
1/3 cup green lentils
1/3 cup split dry peas
14 cups water
Optional ½ cup barley
1 tsp black pepper
Preparation:
Drain and rinse kidney and Romano beans
Peel and Dice cooking onions
Wash and chop baby spinach
Peel and slice carrots
Wash and dice potatoes 
Add Chalice Spice Vegetable Broth Soup Mix, Himalayan pink salt and pepper to water
Add all ingredients to pressure cooker or stock pot
If using a pressure cooker cook for approximately 45 minutes to 1 hour if using a stock pot cook approximately 2 hours
Optional: Add barley for the last 15-20 minutes of cooking
Chef's Tip:
Using a pressure cooker really speeds up cooking time.  It is an ideal pot to add to your kitchen collection not only because it reduces cooking time but there is evidence that shows pressure cooking is healthier because it preserves heat-sensitive nutrients.
Leave a comment (all fields required)