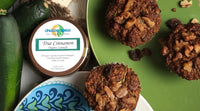 Recipe submitted by: The Clever Cook
With spring just around the corner, there will be a plentiful amount of zucchini at local farmer's markets.  Here is a great recipe to use them up.
Ingredients:
Yields 24 muffins
2 cups cooked dates and 1 cup raisins in 2 cups water
3 whole eggs
1 cup coconut sugar
4 cups rolled oats
1 cup almond flour
½ cup melted coconut oil
2 cups shredded zucchini
½ tsp nutmeg
1 tbsp baking powder
1 tbsp baking soda
1 cup walnuts chopped
1 cup coconut milk (non GMO)
Preparation:
Place pitted dates and raisins in a saucepan with water cook for 5-10 minutes till water is absorbed. Turn off heat and set aside to cool.
In a mixing bowl beat whole eggs and coconut sugar for 2 minutes till well blended.
Melt coconut oil in microwave for 30 seconds until it reaches liquid state.
Add coconut oil to mixture.
Add rolled oat flakes, almond flour , cinnamon, nutmeg, baking powder and baking soda to mixture.
Add date raisin mixture from saucepan to batter and mix for 30 seconds.
Add chopped walnuts, shredded zucchini and coconut milk to batter and stir well.
Bake at 350 for 20 minutes.
Chef's Tip:
You could substitute the dates for dried figs in this recipe.
Comments (1 Response)
Leave a comment (all fields required)