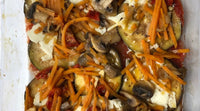 Recipe submitted by: The Clever Cook
Looking for a tasty vegetarian dish to add to your repetoire. This is one that is sure to please everyone at the table.
Ingredients:
Yield 12 pieces
3 eggplants
2 cups sliced organic mushroom caps
4 chopped garlic cloves
2 cooking onions sliced thin
1 sweet potato cut to strips
¼ cup sun dried diced tomatoes
2 tsp chalice spice organic chef's seasoning
½ pound Mozzarella sliced thin
½ lb Smoked mozzarella sliced thin
2 eggs
2 cups purée tomatoes
2 tbsp olive oil
Preparation:
Slice eggplant into thin slices and place in a bowl.
Beat eggs and pour over eggplant tossing eggplant in egg until coated.
Sauté sliced mushrooms, sliced onions, chopped garlic, sweet potato strips, diced sun dried tomatoes, chalice spice organic chefs seasoning and olive oil.
Sauté vegetables for 3-5 minutes till tender.
Begin to assemble.
Place 3 tbsp of tomato purée on bottom of baking dish.
Layer eggplant evenly on top of tomato sauce.
Place mozzarella cheese on top of each eggplant slice then spread ½ the sauté vegetable mixture as a layer.
Layer again eggplant, tomato sauce, cheese and sautéed vegetables. Last layer eggplant, tomato sauce and cheese.
Bake at 350 for 45 minutes
Chef's Tip:
Are you looking for ways to get your kids to eat more vegetables? This is a great hand-on recipe that they can help prepare and assemble.  Getting them involved will get greater buy in and enjoyment.
Leave a comment (all fields required)