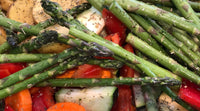 This is a super simple recipe.  It is a great side dish for any main or you can make it your main dish.
Ingredients:
2 carrots
1 buch of asparagus
1 zucchini
3 potatoes (you can also use yams)
1 bell pepper
one large red onion
1 tbsp olive oil
1 tbsp Chalice Spice Grilling Spice
Preparation:
Roughly chop all vegetables.  Feel free to add any additional vegetables you like to the mix.  If you add any more vegetables, you may have to add a tad more oil and grilling spice.
Place all cut vegetables in a mixing bowl.  Add olive oil and grilling spice.
Toss to combine.  
Line cookie sheet with parchment paper and add the vegetables.
Bake at 400 degrees for approx. 35 - 40 minutes or until vegetables are cooked. You can also grill the vegetables on the BBQ using a grilling pan to hold the vegetables.
Make sure to mix vegetables at least once while in  the oven to ensure all sides cook evenly.
Chef's Tip:
Make extra! If you have leftover vegetables, use them to make an omelette or a frittata.  Enjoy.
Leave a comment (all fields required)