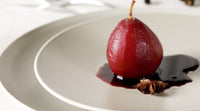 Everyone needs to have one dessert recipe in their repetoire that is easy to prepare, makes a huge impression on guests and is ideal for any occasion.  Poached pears is that perfect recipe. This dessert is a fruit, making t perfect for almost all guests, even those with dietary restrictions. Present the vibrant red pears on white plates and your guests will be awestruck.
Ingredients:
6 firm pears (Bosc) Choose those with stems.
1 750 ml bottle of red wine
1 strip orange peel (white pith removed)
1/2 cup organic honey
1 cinnamon stick
1 tbsp black peppercorns whole
2 cardamon pods
2 cloves
2 star anise
Preparations:
Peel the pears.  Keep the stem. You may have to cut a small slice from the bottom of the pear so it can sit flat on a plate when you are ready to serve.
In a heavy saucepan, heat wine and honey until honey has dissolved.
Add the orange peel and spices and bring to a boil.
Lower the pears and simmer on low heart. You may have to put the pears on their side to ensure they are covered
Turn the pears so they get colour on all sides.
Depending on how hard your pears were to begin with, they will need to simmer between 20 min to 40 min.
When the pears are tender, remove from the liquid.
Strain the liquid into another pot and continue boiling until it reduces to a thick syrup.  About 10 min.  The thickness of the syrup will be based on your personal preference.
Place the pears on a plate and spoon syrup over the pears to serve.  Add a star anise to the serving plate will make for a great conversation and presentation. 
You can make this dessert ahead of time (early morning of your event).  It is ideal served at room temp with only the wine reduction heated at the time of serving.
Chef's Tip:
Do not throw away any remaining syrup  This keeps in the fridge for a long time and it is ideal to use in so many ways: pour over ice-cream, use it to drizzle on pancakes, waffles, crepes or cheesecake or add a splash when making your jus for your roast or steak.  
Leave a comment (all fields required)