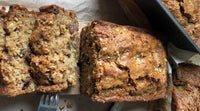 Recipe submitted by The Clever Cook
Yummy low calorie Pumpkin Spice Loaf! This pumpkin spice loaf, is sweet, moist, delicious and replaces several high calorie ingredients with lower calorie/nutrient dense ingredients! Not your traditional loaf! 
Ingredients:
½ cup melted coconut oil
3 whole eggs
1 cup coconut sugar
1 Tsp vanilla extract
 1 cup rolled oats
1 cup white organic white flour
1 cup almond flour
1 tbsp baking powder
1 tbsp baking soda
2 cups purée pumpkin
1 tbsp organic, Chalice Spice Pumpkin Spice
¼ cup coconut milk
¼ cup chia seeds
½ cup raisins 
½ cup pumpkin seeds optional 
Preparation:
Place solid coconut oil in a glass measuring cup then melt in microwave for 30 seconds on high power till coconut oil is a liquid consistency. 
In a large mixing bowl add melted coconut oil, whole eggs, chia seeds and coconut sugar. Mix well.
Add vanilla extract to bowl and mix well.
Continue to add the following to the bowl organic white flour, rolled oats, almond flour, basking powder, baking soda and pumpkin spice. Mix well.
Add pumpkin purée and coconut mil to batter and mix well.
Add raisins to batter.
Optional add pumpkin seeds. 
Grease loaf pan with coconut oil or use parchment paper. 
Bake 350 for 30 minutes 
Chef's Tip:
You can make your own pumpkin purée by buying the small baking (pie or sugar) pumpkins, cutting them in half, removing seeds and baking them. Depending on the size they will need to bake for approximately 30 minutes. You know they are ready when a fork can pierce through the skin easily.
Scoop out the flesh, purée using a food processor.  Put the purée in the freezer.  Defrost the purée when you are ready to make this recipe.
Leave a comment (all fields required)