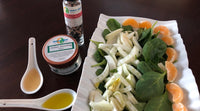 There are just some ingredients that that go well together and they produce the best tasting dishes.  The ingredients in this salad are simple yet they marry so well you will never get tired of having it.
Ingredients:
4cups of fresh baby spinach
1/2 fennel bulb thinly sliced 
2 clementines peeled
Dressing
Preparation:
Wash and spin dry the baby spinach.
Thinly slice the fennel bulb by removing the core.  Use a mandolin if you have one. 
Place all vegetables in a serving bowl.
Prepare the dressing by whisking all the ingredients together.
Pour the dressing over the spinach.  Toss the salad. Add the clementines and serve.
Chef's Tip:
Don't throw out the fronds.  They make excellent garnish or you can chop them finely and add them to the dressing for an extra flavour.  Try adding a little bit of crumbled blue cheese to make it even more special.
Leave a comment (all fields required)