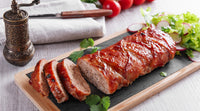 If the mention of meatloaf garners you disapproving looks from your family, it may be because they have only tasted dry, dense meatloaf.  This recipe will be sure to please and surprise them.  The addition of vegetables in this meatloaf makes it both nutritious and moist. 
Ingredients:
1/2 lb. of ground pork
1/2 lb. of ground beef or veal
1/2 lb. of ground chicken or turkey
1 egg
2 slices toast bread
1/4 cup milk
1/4 onion
1/2 zucchini
1/8 red pepper
1/8 green pepper
1/8 yellow pepper
4 mushrooms
1/2 stalk celery
1/2 carrot
1/4 cup parmiggiano cheese
1 tsp. parsley
1 tsp. minced garlic 
1 tsp. paprika
1 1/2 cups tomato passata (sauce to top meatloaf- optional)
2 tbsp olive oil
1 tsp rosemary or merlot sea salt
Preparation:
Combine all three ground meats in a bowl.
Add vegetables: onion, peppers, zucchini, mushrooms, celery, and carrot into the food processor and pulse into small bits.
Add olive oil to a pan and sauté vegetables until they are translucent. About 10 minutes. Halfway through cooking add 1/4 cup of the tomato passata to the mixture along with the Vegetable Broth Soup Mix. 
In the meantime, cut off the crust of bread and put in the food processor to crumble.  Put in a bowl and add milk until it is absorbed. If you don't want to use milk, put some vegetable broth in a cup and add a bit of water or use white wine.  The softened bread will add air and moisture to the loaf.
When the vegetables are finished cooking and they have had a chance to cool you can add it to the bowl of meat.
Add all other ingredients at this time including the bread. 
Mix throughly.
Place entire mixture on parchment paper.  Shape into a loaf. Alternately you can use a loaf pan.
Brush top of loaf with a bit of olive oil.  This will help it brown nicely.
Place in 375 degree preheated oven.  Cook for 40 min or until internal temperature is 160 degrees.
Let it rest 10 minutes before slicing. 
If you want to have a sauce to spread on top of your meatloaf, you can quickly make it while the loaf is cooking.  Put two tablespoons of olive oil in a saucepan. Add a clove of garlic to flavour the sauce.  When the oil has had a chance to flavour itself with the garlic, add the passata.  Add some salt and pepper to taste. Add a few flakes of basil.  Cook for 10 minutes. 
Chef's Tip:
This is a recipe that you can really customize based on your tastes. Don't feel obligated or limited to the spices used here. If you don't like garlic don't use it. If you want to make it spicy add chiliflakes, cayenne pepper or substitute jalapeno sea salt. This loaf is really a canvas for your creativity and personal palette. Whatever you do, don't eliminate the sautéd vegetables because this is the secret to making this meatloaf moist.
Leave a comment (all fields required)