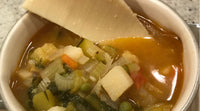 A minestrone is a great soup to have on hand. When you see how easy it is to make and how tasty the result is, you won't every consider canned soup again. 
Ingredients:
one onion chopped
2 stalks celery chopped (use the inner leafy stalks)
1 carrot chopped
2 potatoes chopped
3 zucchini chopped
1/2 cup frozen peas
pinch of Chalice Spice Basil
3 tbsp of olive oil
2 tomatoes finely chopped (you can substitute with 2 tbsp of tomato paste or 8/10 cherry tomatoes)
pinch of salt / pepper
 6 cups of boiling water (put a kettle of water to boil so you have hot water to add when required)
rind from parmiggiano cheese (optional)
chili flakes  (optional)
Green leafy vegetables-use whatever you like or have on hand. Consider swiss chard, romaine lettuce, nappa cabbage, escarole, spinach or endive. To make minestrone even more substantial, consider adding 1/2 cauliflower chopped in small florets.
1/4 chopped nappa cabbage (you can substitute any other greens you may
1/4 chopped escarole 
Preparation:
Add olive oil to a heavy bottomed casserole.
Add onions, celery, carrot and potatoes (and cauliflower if using) and let them sauté for at least 5-7 minutes before adding other ingredients. 
Add a pinch of salt to help the cooking process.
If you need to add 1/4 cup water to help vegetables sauté and not burn.
You want the potatoes to begin to cook down before adding other vegetables. Let all the vegetables sauté for another 5 min.
Add 6 cups of boiling water from the kettle.
Add Chalice Spice Vegetable Broth Soup Mix
Let vegetables come to a boil.  Reduce heat and simmer for 20-30 min.
Serve with a piece of crusty bread or cook some tubetti pasta and add it to the finished minestrone.  
This soup keep really well so don't worry about making extra.  
Chef's Tip:
When you buy a piece of parmiggiano, don't throw out the rind.  You can keep it in the fridge or freezer and add it to soups like this one.  The rind will melt down and add a beautiful sweetness and creaminess to this soup,
Leave a comment (all fields required)