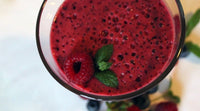 Do you know that berries along with other red fruits and vegetables deliver super-healthy antioxidants that help fight disease. This drink is packed wth this super antioxidant value,.
Ingredients:
1 cup mixed berries 
1 cup frozen mango chunks
1 cup plain Greek yogurt
1/4 cup almond milk or water (the liquid helps it blend, add a bit more if necessary when blending)
Preparation:
Combine all of the ingredients in a blender, and blend at high speed until smooth.
Pour into glasses and serve immediately.
Chef's Tip:
Berries are the crown jewels of summer and during this time you will find an abundance both in your local grocery store as well as at the farmer's market. Take advantage of peak season or when they are on sale at the grocery store to stock up and put them in the freezer. This will save you both time and money when you are ready to make this drink.
Comments (1 Response)
Leave a comment (all fields required)