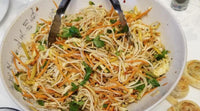 This is a signature dish of Chef Suzy Cui. This fresh, light and tasty salad was the dish that put Suzy in the top 30 in the cooking show Master Chef Canada
Ingredients:
1/2 Chinese Napa salad
1 small tomato sliced
1 medium cucumber sliced
1 carrot thinly sliced (julienned)
2 cups beansprouts
1/2 cup salted sunflower seeds (optional)
Dressing
1/4 cup olive oil
1/4 cup Chinese rice vinegar
2 tbsp honey
2 tsp white sugar
1 tsp grated fresh ginger. If you don't have fresh on hand, use Ginger Root Powder
1 clove fresh garlic grated.  For more subtle garlic taste use Organic Minced Garlic
1 tsp sesame oil
1 tsp salt
Preparation:
Mix your Napa salad, carrots, cucumber, tomato and beansprouts together in a large salad bow.  
Add salt and sugar and toss.  
In a separate bowl prepare  and mix the dressing.  
Pour dressing on salad and toss.
Add sunflower seeds for crunch just before serving.
About the Chef  
Suzy Cui is a renowned Asian Cooking Instructor in the Windsor area for over a decade.
She is the host of the cooking show Culture Cooking with Suzy Cui which airs on Your TV, channels 11 and 700.
She was also on the top 50 list of competitors of season two, of  Master Chef Canada. This Nappa Salad was the dish that garnered her recognition on Master Chef Canada.
Chef's Tip:
 While this salad has an Asian flare, it is light making it deal to serve with any dish especially steamed or broiled fish.  
Leave a comment (all fields required)