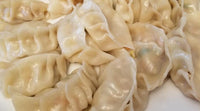 Wontons are easy to make and can be used in so many ways.  They are an ideal appetizer or entree  Wontons can be filled with a variety of meats or vegetables.  This is a dish that is good to learn because you can use it in so many instances to please so many different palates.
Ingredients:
1 pound ground pork
1 cup chopped green oniion
1 tbsp salt
2 tbsp soy sauce
1tsp sesame oil
1/2 cup chick stock or water  
Wonton wrappers (keep them under a moist kitchen towel so they don't dry out while you are filling them.)
Sweet chili dipping sauce to serve. (optional)
Consider serving these delicious wontons in a soup. 
Use chicken bones to make broth. Add Chalice Spice Vegetable Broth Soup Mix to add flavour and depth to any soup.
Bring the stock to a boil.  Add wontons to the stock.  Let them cook for about 4 min. 
Enjoy.
Preparation:
In a large bowl, add ground pork and add salt, pepper and five spice and soy sauce.
Add chicken stock or water slowly mix the meat.
Add green onion and sesame oil to mix.
Place a small amount of filling in a wonton wrapper.  
Dampen sides of wonton with an egg wash to help seal.  Seal in the shape of a triangle. Bring two end together in the back. 
Fry in a pan with some oil or use a steamer basket to steam.
Serve with a sweet chili dipping sauce.
About the Chef 

 
Suzy Cui is a renowned Asian Cooking Instructor in the Windsor area for over a decade.
She is the host of the cooking show Culture Cooking with Suzy Cui which airs on Your TV, channels 11 and 700.
She was also on the top 50 list of competitors of season two, of  Master Chef Canada. The Asian Tradtional Nappa Salad was the dish that garnered her recognition on Master Chef Canada.
Chef's Tip:
You can fry wontons but if you want a healthier option, steam them using a steam basket.  Once made, wontons freeze well so y
Leave a comment (all fields required)