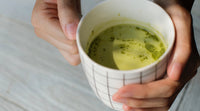 A morning matcha latte will wake you up and set you up right for a productive and glorious day.
Ingredients:
1 tsp matcha green tea powder
2 tsp sugar
3 tbsp warm water
250ml cold milk or 300ml hot milk
Preparations:
Spoon the matcha green tea powder and the sugar into a mug or cup.
Add the warm water and mix with a spoon or with a whisk until it is a smooth dark green paste to ensure no lumps form.
Warm the milk in a small saucepan and pour into the mug until nearly full. Use cold milk for an iced latte.
Use a whisk to mix the paste and milk together until smooth and light green in colour.
If you so wish, you can add a few sprinkles of matcha green tea powder on the top for decoration. Or add ice for an extra cold iced latte.
Chef's Tip:
A Matcha latte can be enjoyed either hot or cold and feel free to use any kind of milk you like – we like almond milk the best.
If you like a matcha latte cold but don't want to water it down with ice, fill your ice cube tray with matcha green tea so the ice cubes are full of matcha flavour.  These will ensure the rich matcha flavour comes through on your iced matcha latte.
Leave a comment (all fields required)