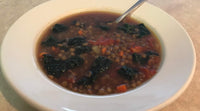 Lentils are grown right here in Canada.  They are nutrient dense and cook quickly, making them an excellent weeknight meal.  In addition to being a good source of fibre which can help to reduce cholesterol levels they are rich in magnesium too.  Lentils also help boost metabolism which make them a must for those in weight watching mode.
Ingredients:
1 cup of dried brown lentils
3 cups of cold water
2 tsbp olive oil
1 stalk celery chopped in small cubes
1 carrot chopped in small cubes
1 yellow onion chopped in small cubes
1 tbsp Chalice Spice Vegetable Broth Soup Mix
1/2 cup diced tomatoes
Salt and pepper to taste
Preparation:
Sort and clean the lentils.  Be sure to remove any dried beans or stones which sometimes can be in the packaging,  Rinse them under cold water.  Lentils are the only bean that does not require you to soak it overnight.  
Place lentils in pot with 3 cups of water. 
Bring to a rolling boil, reduce heat to a simmer.  Leaving lentils on high heat will make them split and get mushy.  
In a separate frying pan, add olive oil.  
Add onions, celery and carrot and allow to soften.  Add just a small pinch of salt to help them sweat and cook thoroughly.
Once the vegetables are soft, add the tomatoes. Allow the tomatoes to soften and cook down.
Once lentils have been cooking for approximately twenty minutes, add the cooked vegetable mixture. You want to add the vegetables and salt near the end of the cooking time because adding acid (tomatoes) or salt too soon will cause the lentils to stay hard.
You will need to gauge if more cooking time is needed, because the age of the lentils can require they cook longer.
Add the vegetable mixture in the last 10 minutes of cooking time along with the Chalice Spice Vegetable Broth Soup Mix.
Allow to cook for 10 more minutes.
Taste.  Add salt and pepper to taste.
Serve with Garlic Crostinito make it a complete meal.
Chef's Tip:
If you want to add even more nutrients to this dish, add one cup of  washed and chopped greens like kale, spinach, swiss chard or endive. You can add these in the last 10 minutes of cooking time because they only need to wilt down. 
Leave a comment (all fields required)