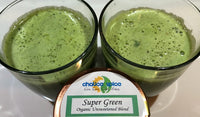 This super healthy green juice is ideal as a breakfast drink or for an afternoon pick me up.  For those following a juicing regiment as part of their health plan, this recipe is a must have.
Ingredients:
1 bunch spinach
1/2  lemonpeeled and quartered
3 inch piece of ginger peeled
1/2  cucumber cut into long strips
2 large granny smith applescored and sliced
4 whole celery stalks
Preparation:
Wash & Prep Fruit and Veggies
Juice the spinach, lemon, ginger, cucumber, apples, celery
Add 1 tsp of Chalice Spice Super Green Blend to the finished juice and mix well
Pour into glasses and serve immediately.
Add ice. (optional)


Chef's Tip:
Take the finished juice and put some in ice cube trays.  This way you will have juice cubes to add to the finished drink or in the blending stage.  This small trick will ensure your finished juice doesn't get watered down.
Leave a comment (all fields required)