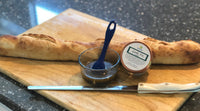 Garlic crostini are are the perfect addition to soup. They are ideal to serve alongside dips.  Don't buy these packaged.  You will save money and they will be so much tastier if you make them at home.
Preparation:
Preheat oven to 350 degrees.
Add olive oil to a bowl, mix in Chalice Spice Garlic Fix Seasoning, salt and pepper (optional) and mix until combined well.  
Slice 1 baguette into ½" to ¾" slices on a diagonal.
Arrange baguette slices onto large baking sheet lined with parchment paper. Depending how many slices you have, you may need to use another baking sheet. 
Brush both sides with oil mixture.
Bake, rotating sheets halfway through, until golden, 15 to 20 minutes. Halfway through baking turn crostini over to brown the underside as well.  
Top with desired toppings
 Chef's Tip:
This is where you should use your day old or leftover bread.   
You can store crostini for up to one week, by placing them in a resealable plastic bag 
Leave a comment (all fields required)