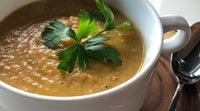 This soup is loaded with lots of cauliflower and garlic for their health benefits. Cauliflower is a member of the cancer fighting cruciferous family of vegetables. Cauliflower is known to contain an impressive amount of vitamins while supporting healthy digestion.
Ingredients
1 head cauliflower chopped into large florets
1 head garlic
2 1/2 tablespoons extra virgin olive oil divided
3 carrots peeled and cut in large chunks
2 stalk celery diced
1 medium onion diced
3 teaspoon Chalice Spice Vegetable Broth Mix
5 cups water
Parsley for garnish (optional)
Preparation:
Preheat oven to 400 degrees F.
Cut the top off the head of garlic to reveal a small portion of the cloves. Lightly drizzle with olive oil (1 tsp) and wrap in aluminum foil.
Toss the cauliflower florets and carrots with 1 tablespoons of olive oil, salt and pepper to taste.
Spread the cauliflower and carrots in a single layer on a baking sheet. Add the garlic wrapped in aluminum foil on the tray. Bake for 25-30 minutes. (** Line your baking tray with parchment paper for the vegetables not to stick **)
Heat remaining olive oil in a large pot over medium-high heat. Add onions and celery. Cook until translucent. (** If it's starting to stick to pot, just add a bit of water **)
 Add 5 cups of water, and bring to a boil.
Add 3 teaspoon Chalice Spice Vegetable Broth Mix.
 Add 4 TBSP of Chalice Spice Creamy Vegetable Broth Mix. (** To make it less creamy, reduce by 1TBSP)
Squeeze the garlic cloves out of the head of garlic and add to pot
 Add roasted cauliflower and carrots to the pot
Bring to a boil, reduce heat and simmer for 10-15 minutes
Remove from heat and purée until smooth with an immersion blender
Chef's Tip:
Roasted garlic is much easier to digest than raw garlic.  You will also find that roasted garlic will not be as prominent on your breath so don't hesitate to make this soup on date night. 
Leave a comment (all fields required)