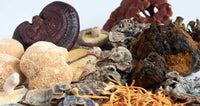 Medicinal mushrooms have been used in traditional and folk medicines since before recorded history. A man frozen in ice around 3300 BCE was discovered in an alpine glacier in 1991. He was carrying two different species of mushroom on him at the time. One was a tinder fungus capable of holding a warm coal to re-start a fire at a new location many hours later. The other was a medicinal birch polypore used to fight parasites and other infections. From Ancient Egypt, to Greece, to Rome, mushrooms were included in medicine practices that were used to treat cancer, respiratory ailments, and many other conditions.
Did you know: The first time that beneficial properties were identified and extracted from fungus was in 1928 when Alexander Fleming discovered penicillin. Many other antibiotics have been discovered since that time, and the antibacterial and antiviral properties of various fungi have been widely exploited. It's estimated that penicillin alone has saved over 200 million lives.
Mushrooms contain a wide array of powerful healing compounds that you can benefit from. From acting as a detoxifying agent to boosting the body`s immune system, mushrooms are used all over the world for their nootropic, nutritional, and medicinal benefits.
We're going to answer this simple yet perplexing question: what mushrooms are best for their medicinal and nutritional properties? And how do each of these mushroom's benefit your health and wellness?
Chaga
Chaga is type of conk, shelf mushroom, bracket fungi, or polypore. These are all different names used to reference a woody fungi protruding from tree trunks. Chaga looks like a growth, a burnt blister, or a scab that grows somewhere along the trunk of the birch tree. The portion of Chaga that is harvested is two toned, with a brittle, coal-black exterior crust (called sclerotia) and a cork-like, golden-brown interior. Unless it is a very young, there will be a higher ratio of the brown interior. Chaga's texture is something between coarse, rubbery wood or porous, crumbly rock. It requires a bit of force to cut it with a knife and is not something you'd want to chew on.
Many people assume all mushrooms are squishy, so when you first encounter chaga you may be surprised that it is a mushroom at all.  You may also be surprised that it is one of the most talked about mushrooms these days. Chaga has long been held in high regard in Russia, China, and other Northern, boreal cultures.
Benefits of Chaga Mushrooms
Chaga's most noted accolade is its antioxidant power. Chaga is also nutrient dense, containing the B vitamin complex, vitamin D, potassium, copper, selenium, zinc, iron, manganese, magnesium, calcium. Chaga is used to balance blood sugar and blood pressure, to purify the liver, to relieve pain, to modulate the immune system and as an overall tonic. These mushrooms are now prevalently used to treat diabetes, cancer, and other cardio diseases.
Reishi
Reishi mushrooms are rare mushrooms that grow at the base of deciduous trees.  The reishi mushroom is a macro-fungus that grows in humid and warm locations. It is native to Asia and other regions in the Eastern Hemisphere, and for years has been used in medicines all over the world. Although the mushroom can be eaten fresh directly, its powdered form and extracts are often used for a variety of dishes and concoctions.
Benefits of Reishi Mushroom
Reishi mushrooms contain polysaccharides, peptides, and triterpenoids, which may provide some of their health benefits. They also contain dietary fiber and various minerals, vitamins, and amino acids. Reishi mushrooms are used in several anti-depressants and pain killers. They are also used massively for the treatment of heart diseases, low blood sugar disorders, and are also consumed by cancer patients for their miraculous anti-cancer properties.
Lion's Mane
Known in Latin as Hericium erinaceus, lion's mane is native to North America, Europe and Asia, although it's not cultivated widely in areas outside of Asia. Lion's Mane mushrooms, as evident by their name, are huge, shaggy, white in color, and very similar to the mane of a lion. These mushrooms have long, dangling spines that are usually greater than a centimeter in length. Unlike most mushroom species, whose spines project from a branch, the spines of Hericium erinaceus projects outward, giving it that unique look of a lion's mane.They grow on the trunks of hardwood trees.
Benefits of Lion`s Mane
Lion's mane has many uses beyond just looking really cool. This strange specimen is considered a medicinal mushroom. Traditional Chinese Medicine has long prescribed it for stomach problems and cancer of the digestive organs. Modern research suggests that these mushrooms also have antibacterial and anti-inflammatory properties, as well as supporting the immune system against certain types of cancers. Yet the most exciting discovery about this mushroom is its ability to possibly heal nerve tissues. It contains molecules known as hericenones and erinacines, two compounds suspected to stimulate nerve growth factor (NGF). NGF is a protein necessary for nerve cells that send information to the brain to function properly. Lack of NGF is considered a cause of certain neurological problems such as Alzheimer's and dementia. This is where lion's mane comes in! Due to their low molecular weight, the nerve regenerating compounds in this mushroom do pass the blood-brain barrier. This allows them to stimulate and repair nerve cells in the brain itself, increasing cognitive function.
Cordyceps
Cordyceps are ancient caterpillar-like mushrooms. Cordyceps helps to improve immunity by stimulating cells and specific chemicals in the immune system. It also has activity against cancer cells and may shrink tumor size, particularly with lung or skin cancers.
In Traditional Chinese Medicine, cordyceps were considered a very special tonic as it was offered to the Emperor's court and others among Chinese nobility. The first written record was mentioned in the year AD 620. Traditionally it was used as a lung and kidney tonic making it useful for respiratory ailments, physical exhaustion and for those with a weak constitution.
Benefits of Cordyceps
A stronger immune system, more energy, improved endurance, and better stamina … one ingredient promises all of that. Like many other mushrooms, cordyceps are also used to treat cancer patients, to improve the sweet intake of diabetes patients, and to strengthen the heart muscles. Cordyceps supplements effectively plays the role of that extra insulin shot by mimicking insulin to the decrease the blood sugar levels. These type of mushrooms helps to boost the immunity system and prevent fatigue. If you're constantly tired, this mushroom could help in increasing your energy levels!
Turkey's Tail
While there is an abundance of mushrooms with medicinal properties, one of the most well-known is Trametes versicolor, also known as Coriolus versicolor. Commonly called turkey tail due to its striking colors, Trametes versicolor has been used around the world for centuries to treat various conditions. Perhaps the most impressive quality of the turkey tail mushroom is its ability to enhance the health of your immune system.
Benefits of Turkey`s Tail
Turkey's tail contains a wide variety of phenol and flavonoid antioxidants which help promote your immune system health by reducing inflammation and stimulating the release of protective compounds. PSK and PSP are powerful polysaccharopeptides found in turkey tail mushrooms that may strengthen the health of your immune system. These can also suppress growth of certain types of cancers. It also can enhance the efficacy of both chemotherapy and radiation. Additionally, Turkey tail may positively impact gut bacterial balance by enhancing the growth of beneficial bacteria while suppressing harmful species. The mushroom has high success rates in aiding digestion, treating human papillomavirus, fighting cancer, and also helping patients with HIV.
What is the Best Place to Get These Mushrooms?
Chalice Spice, as one of the most renowned suppliers of medicinal herbs, tea leaves, spices, and superfoods, is a great place to get your hands on the top 5 edible mushrooms. Get the perfect blend of chaga, reishi, cordyceps, lion`s mane, and turkey`s tail with Chalice Spice's Mushroom 5 Supplement.