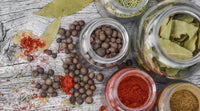 Even if you have the most detailed and foolproof recipe in hand, cooking can be frustrating and challenging if you don't have the right ingredients.  Whether you cook occasionally or daily, having a well-equipped kitchen including a well-stocked spice pantry will make the cooking experience much more enjoyable.
The fact is that for many, spices are an afterthought.  Often our spice options are what came with the spice rack that we purchased years ago not what we use or what we need,
Read on to learn about the absolute must haves for stocking your spice pantry with top quality spices that will allow you to put together spectacular dishes and reap the powerful health benefits spices contain.  With the list of spices below you can tackle any type of recipe. 
The Essential List of Spices⎮The Must Haves
Bay Leaves
Bay Leaves are known to give a nice elevation to your soups, meats, stews, seafoods, and dressings. A popular element in Greek and French cuisines, as well as many traditional Mediterranean dishes, this highly aromatic herb can be potent in small amounts which allows it a good level of flexibility.
Be sure to discard it before serving.
Cayenne Pepper
Cayenne has a wide versatility as it can be used to spice your chili's, taco, southwest casseroles, prepared eggs, seafoods, dips, dressings, and sauces. Use at your own risk; a little cayenne will go long way.
Chili Powder
Made from a blend of dried chilies it also has cumin and oregano added.  Ideal for Mexican and Southwestern cuisine.
True Cinnamon
True cinnamonis also referred to as Ceylon Cinnamon or True Cinnamon and is more potent than its other cinnamon variants that are not "true" in origin and not as sweet because there is no added sweeteners to it. You will get a heightened spice flavour and aroma from true cinnamon in your baking dishes without any overwhelming sweetness. Use sparingly; it only takes a small pinch and make sure the cinnamon you buy comes from Sri Lanka.  
Ground Cumin
Add a deep and earthy dimension to your dishes with ground cumin. A popular spice to incorporate into dry mixes and seasonings, cumin is intensely aromatic with a slightly tepid taste that is very inviting. A spice that is used in beverages as well as BBQ sauces and meat marinades for a burst of pleasant zeal.
Garlic Powder
Garlic powder is the form of garlic best utilized as a final garnish and when cooking dishes that do not come into direct contact with a searing surface like a pan or grill. Garlic powder works great in slow cooker recipes, soups, and baked dishes, as the garlic powder will not be burned by a cooking surface but rather infused into the dish itself. 1/8 tsp = 1 Clove of Garlic.
Ground Ginger  
Ground ginger is known to be a tad milder then fresh ginger and will not overpower your dishes like fresh ginger can. Ginger root powder infuses a flushed spiked and sweet flavour blend to your favorite recipes.
Nutmeg 
One of the most poignantly fragrant spices used in popular cooking and baking today, and a delicious pumpkin pie would not be found in the absence of nutmeg powder. Often paired with true cinnamon and ginger, nutmeg is a must have for the avid baker. Nutmeg also works very well with dairy based dishes and is often used in custards and dessert sauces.  Try adding a touch of nutmeg to green leafy vegetables, spinach, Brussels sprouts, and squash.
Oregano
Oregano combines flavours of fresh green earth and mint with a nectarous touch. Popular in Mediterranean and Greek dishes as well, oregano will magnify the flavours of your favourite tomato based, vegetable rich, and salad vinaigrette recipes. 
Paprika
 A staple to virtually all taco and fajita seasoning mixes, paprika gives a smoldering heat element with a tad of acidic flavour and peppery undertone to your traditional southwest dishes. Paprika is often found to be a popular flavour component of rice dishes, goulash, gumbo, hummus, tacos, and stews.
Black Peppercorns
Whole black peppercorns take a slightly separate route then ground black peppercorns. After being meticulously picked and then delicately sun dried, they are then steamed whole for a brief period of time. This process allows for the intense earthy spiciness to be preserved until it is ready to be crushed and added to your dishes.
Dried Rosemary
Originating in regions of the Mediterranean, rosemary is an ancestor to your traditional mint herb and shares the same common property of intense flavour preservation even after the drying process of which mint family herbs exhibit. Rosemary adds a piney essence and aromatic tea like sharpness to your roasted meats, stews, soups, and vegetables. Use sparingly as rosemary is known to be potent in small amounts and gain potency with the amount of time it is cooked for.
Sea Salt
Essential to every dish.  Using sea salt gives dishes draws out the full flavors of the ingredients of your recipe.  Himalayan Salt is known as mineral salt as it contains many minerals that your body needs.   
Thyme
A unique Mediterranean originating herb, thyme is known to be seafood and chowders third amigo. Also utilized to flavour up stuffing and soups, thyme is a herb that has balanced flavours of fresh greenery and mint like sharpness. Thyme is widely used in many types of dips for its uplifting and balancing taste.
What to Keep In Mind Regarding Your Spices
Buy What You Need

To best preserve the flavour of spices don't' buy more than you will use in a three to six-month period.
You really wont be saving money if you buy large club packs of spices. The few dollars you are saving in buying such large quantities will be lost when you have to throw out the spices because they will get old in your cupboard.
Make sure the spices you buy come in glass containers as opposed to plastic. Glass preserves the spices better.

Buy Quality Spices

Look for spices that are certified organic, wild harvested and made from real ingredients with no additives, preservatives or fillers.
Choose manufacturers that process in small batches to ensure you have the best quality and freshest spices available. Spices should be fresh to enhance your dish.

Consider Blends

If you find there are some spices you seem to use together regularly, consider buying the combination in a blend. Buying blends will save you time and money as well as space in your spice cupboard.  Make sure the blends you buy contain 100% real organic or wild-harvested ingredients only and no additives, preservatives and fillers.
This list of spices can be compared to the primary colours a painter would have on their palette.  Without these primary colours an artist cannot begin to paint nor would they be able to begin to create the wide range of colours their imagination and painting may require.
You dishes will be elevated to new heights by using fresh spices. Is it time to clean out and restock your spice pantry?